Steve Wood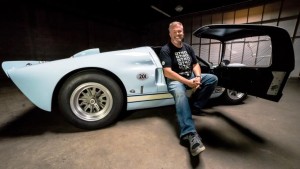 Steve Wood is an American Engineer, Automotive Designer, Technologist, Comedian and Writer who specializes in American Sports Car motoring.
He is best known for his Customization to American Automobiles under the name of his firm "PANAVIA" in Campbell, California.
Building the brand of PANAVIA, Mr. Wood stands on the shoulders of giants in automotive racing history. His Childhood heroes are the likes of Jack Sears, Allen Grant, Peter Brock, Bob Bondurant and Jackie Stewart who have taught him many professional and personal life lessons.
He has devoted most of his adult life to improving technology from his corporate background in IT and Systems, Opto-Electronic/Ophthalmic Manufacturing equipment design as well as Technical Team and Process Development. Steve regards himself as "Werner Von Braun in cowboy boots."
Steve's passion has always been American sports cars (Shelby Cobra, Daytona Coupe, Sting Ray and GT40). When he became successful in his businesses he wanted to get back to his roots as a motoring enthusiast. Joining forces with his teammates from automotive, technical and IT industries, he has formed PANAVIA in Silicon Valley which brings craftsmanship and 21st century technology to the cars of his youth.
Steve recently aided and abetted the "Original Venice Crew" with significant work on their prototype OVC GT350R Mustang and has been commissioned by many high end clients to build "the nicest" cars possible. He is highly sought after by well-heeled car enthusiasts, who want their cars "built to a standard, not down to a price".
"We Make the American Dream Happen" –Steve Wood on Jay Leno's Garage in 2014.