Shelby Legends at Panavia
Panavia is the home for your intelligently built classic.
Stay tuned for photos of projects past , present and future.
View the Prototype 1965 GT350 R-Model Original Venice Crew OVC Mustang Project with the exclusive Independent Rear Suspension built by Peter Brock, Jim Marietta and Ted Sutton!
Meet some of our recent Guests ;
Allen Grant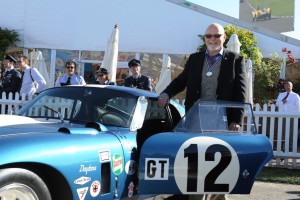 Allen came looking for a job with Carroll as a race car driver, like so many before him Allen had success early in his racing career and wanted to drive for the best. Carroll had plenty of drivers so instead Carroll hired Allen as a welder back in 1963. Allen moved to production control and convinced Coventry Motors to buy the successful race prepared Cobra CSX2128 and let him drive the Cobra at the races. Allen's first races were at Santa Barbara and Candlestick Park when Allen had two first place finishes under his belt and set his eyes on the 1963 Riverside GT race against Carroll's factory drivers; Dan Gurney, Lew Spencer and rival Bob Bondurant. After a touch & tap by Bondurant, Allen battled to finish in second place with a most impressive campaign from the back. Allen had a brief break from Shelby in 1964 and returned to drive none other than the iconic Cobra Daytona Coupes as a Team Driver. Allen and Bondurant went to Europe with the Coupes in 1965 and due to Allen's and Bob's efforts, Shelby American won the FIA GT Manufacturers World Championship in an American built car. Allen and Bob also had an overall class victory at the hallowed Monza circuit in Italy. Allen has been a fantastic supporter of mine for many years , I cant thank him Enough for
Ted Sutton: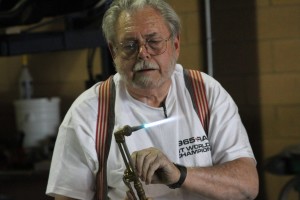 Ted was involved in putting a small block Ford motor into a Little Austin Healey when he went over to Shelby's shop on 1042 Princeton Drive in Venice California to look for ideas on how to install a hydraulic clutch assembly. After talking to some of the mechanics in the shop, Ted was hired to work on the Cobras. Ken Miles had the idea to install a 427 FE NASCAR engine into the tiny 289 Cobra chassis so they turned to Ted to figure out how to stuff that big block into the small block space and have the Cobra ready for the 1964 Sebring 12 Hour Race for Ken Miles. Subsequently John Morton co-drove with Miles but not before Miles wrapped the first big block Cobra around a tree during an off-course excursion. The Cobra was bent up pretty good and Ted and the crew got the Cobra back together over night for the race. Ted also worked on the first Cobra Daytona Coupe CSX2287, the first Tiger race car and the first R-Model GT350 that went on to win its first race driven by Ken Miles.
Jim Marietta :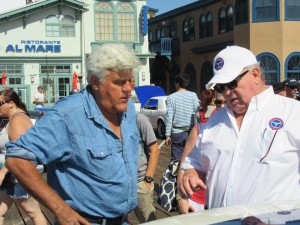 Jim was most likely the youngest employee at the 1042 Princeton Shop to ever turn a wrench. Jim started following the Cobras at race tracks all over the States when Race Team Manager Al Dowd noticed him showing up and hanging around the pits. Dowd started allowing Jim to help out in the pits with the Cobras and eventually offered Jim a job at the Princeton Drive shop. At 17 years old Jim showed up with his tool box and was immediately assigned to the brand new GT-350 Mustang program. Jim was involved in developing the Ford Motor Company's secretary Mustang into a fire breathing fierce track competitor worthy of accolades all across the country. Jim worked with Jerry Schwarz, Chuck Cantwell, Peter Brock, Peter Bryant, Ken Miles, Dick Lins and Ted Sutton. Jim was also part of the Shelby Team that worked on the development of the Independent Rear Suspension proposal in the GT-350.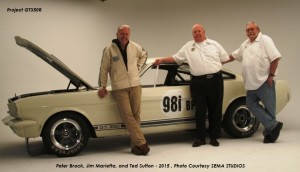 1436 White Oaks Road Suite 14, Campbell CA 95008
Refreshments Served Courtesy of Panavia and the Northern California Shelby Club.
— A Note From Steve Wood ;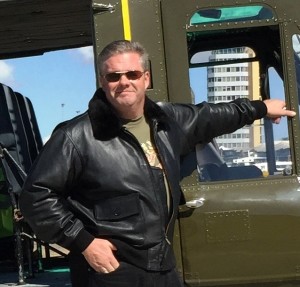 Greetings – as your Friendly "Captured German Scientist" at Panavia , I am beyond humbled and honored to have our mentors and friends here for this event – these gentlemen have been very supportive of Panavia. The attachment to the 1960s Shelby Era is a very personal thing for me, it was much like the Manned Space Program in my mind as a young Hot-Rodder . I loved hearing the stories of Californians ( and the occasional Texan..) as Americans taking on the world of sports car racing and knocking over Ferrari, or using a Mustang to race past Corvettes, or making a little British sports cars durable and powerful enough to race for 24 hours- This filled our American iron dreams again and again.
I personally look forward to seeing all of you and to see what kind of interesting discussions and stories each of you can bring – I am excited to see this particular 1965 GT350 Mustang again and hear how it was created from the gentlemen that "carved it out of a rock" – from the Suspension, to the modernization of the Rear "R" Model Aero-Window ( it was supposed to be this way originally ) to the brake ducts – a thousand details that are pure California Hot-Rodders at work. Additionally we will have Shelby 50th Anniversary 289 FIA Cobras on display , a Rare and Beautiful 67 GT500 , our GT40 and Daytona Builds – I look forward to seeing you all there. —Steve Wood